This post is late in coming since this happened last Friday but I still have to share it.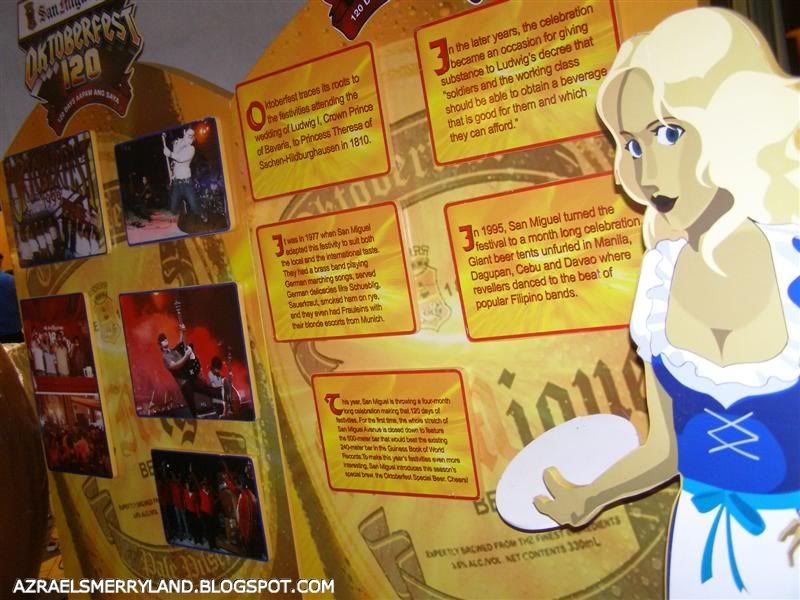 First of all, this was my very first bloggers' party and if I had known all bloggers' party were like this, then DAMN! I should've started blogging a long time ago! And of course, there's the scrumptious buffet that had all kinds of food, from the grilled meat and fish of Reyes' Barbecue to the tempura of
I-don't-know-the-name

Japanese restaurant
. There was so much food, I wasn't able to get the name of the other restaurants that served them! And of course, there was the open bar on all San Miguel Beer products! Free beer! Bottomless free beer! Cold, bottomless free beer! And lots of grilled meat which goes perfectly well with cold, bottomless free beer! What more would a Typical Guy want?! I suppose

"scantily clad women"

would be the answer, but since this was a wholesome event (I know 'coz one blogger even brought her kid along for the event) I guess the SMB Oktoberfest promo girls would suffice.


The event was scheduled to start at 7pm and I managed to reach the venue at SM Mall of Asia's Taste Asia at half past. Late, yes, but in Filipino time, I was pretty early. Hahahaha... Anyway, I got in line where the pretty and sexy promo girls helped me with my registration, saw the goodie bags on the floor near the reception area (the ones we were going to take home after the event) and went inside the main party venue. There were a handful of people already there but since I was new to the whole bloggers' party concept, I just staked out a table and waited for some of my geek buddies that I've known way back before this whole blogging thing came about.


Anyway, the venue was cozy enough. A bit too small for the registered number of bloggers who signed up, but then again, you kind of expect that not everyone who signed up WOULD show up. There was a stage set up for a band at one end of the room while off to the side, there were a couple of tables with Lenovo laptop computers set up with wi-fi access for the bloggers to use freely while they were at the party. And as expected, some of the people there hardly left the laptop once they found an available one. Really, some people have to be online every single minute of their lives, like...


Although my friends weren't there yet, when the host of the event announced the buffet was open, I made a beeline for it quickly since I was hungry, and it was dinner time anyway so what the hell. I was falling in line for the selection from the
I-don't-know-the-name

Japanese restaurant when one of Taste Asia's helpful service crew pointed out that there was hardly a line forming at Reyes' Barbecue. And since I'm a huge fan of generous servings of grilled meat, I switched lines and helped myself to their juicy servings.
Soon, my friends started trickling in along with some of their friends who were familiar to me as Comment posters in their blog sites. There's Az, a friend I've known for a long time since New Worlds started and who's probably the country's most connected man in social media networking, there Mark who's a big Transformers collector and serves as the president of TransFormers Philippines, the local Transformers fan group, and then there's RG, a multimedia genius and a big anime fan. Some of the new bloggers I met through Az were Joriben, JP (Sorry, I have no idea where I can find your blog), and the

"real"

Mike Abundo. Hope to see you guys in future bloggers' events.


Moonstar88 was also there and performed some of their hits along with their rendition of the Eraserheads' Sembreak which had everyone rocking. They also had some beer drinking contests (of course!) as well as some raffle contests where Joriben got an ice bucket,
Az won a Creative MP3 player
while Mark scored a Motorola Bluetooth headset, leaving me and RG winless. BOO!

Hisssss!




Well, at least I took advantage of the open bar since I managed to quaff quite a few bottles of beer, particularly this limited-edition blend that they'll be brewing only during the duration of the Oktoberfest celebration. What's the difference between the regular SMB Pale Pilsen and the limited-edition one? To my beer drinking knowledge, the latter goes down more smoothly and doesn't leave you inebriated. Think San Mig Light smoothness coupled with Pale Pilsen flavor and you get the picture, or in this case, the flavor. Although I assume if you managed to drink more than a few bottles down, you'll still get mildly intoxicated since I did carry a buzz around later on in the night. And no, I still was fully aware of what I was doing the entire time or else I would've chatted up one of the pretty promo girls.


Anyway, when the event came to a close, everyone who attended got to take home a goodie bag that had 6 cans of Pale Pilsen, a pack of E-aji chips and a gray San Mig Light ID lanyard. Thank you, San Miguel Beer! The chips I had for breakfast the following day, the cans of beer are now chilling in our ref while the lanyard is in my cabinet keeping my other lanyards' company.


Now, since my line of work involves social media marketing and the use of viral marketing, my take on the event was both as that of a blogger and that of a marketing professional. And the way I see it, the SMB marketing people behind it scored a resounding home run.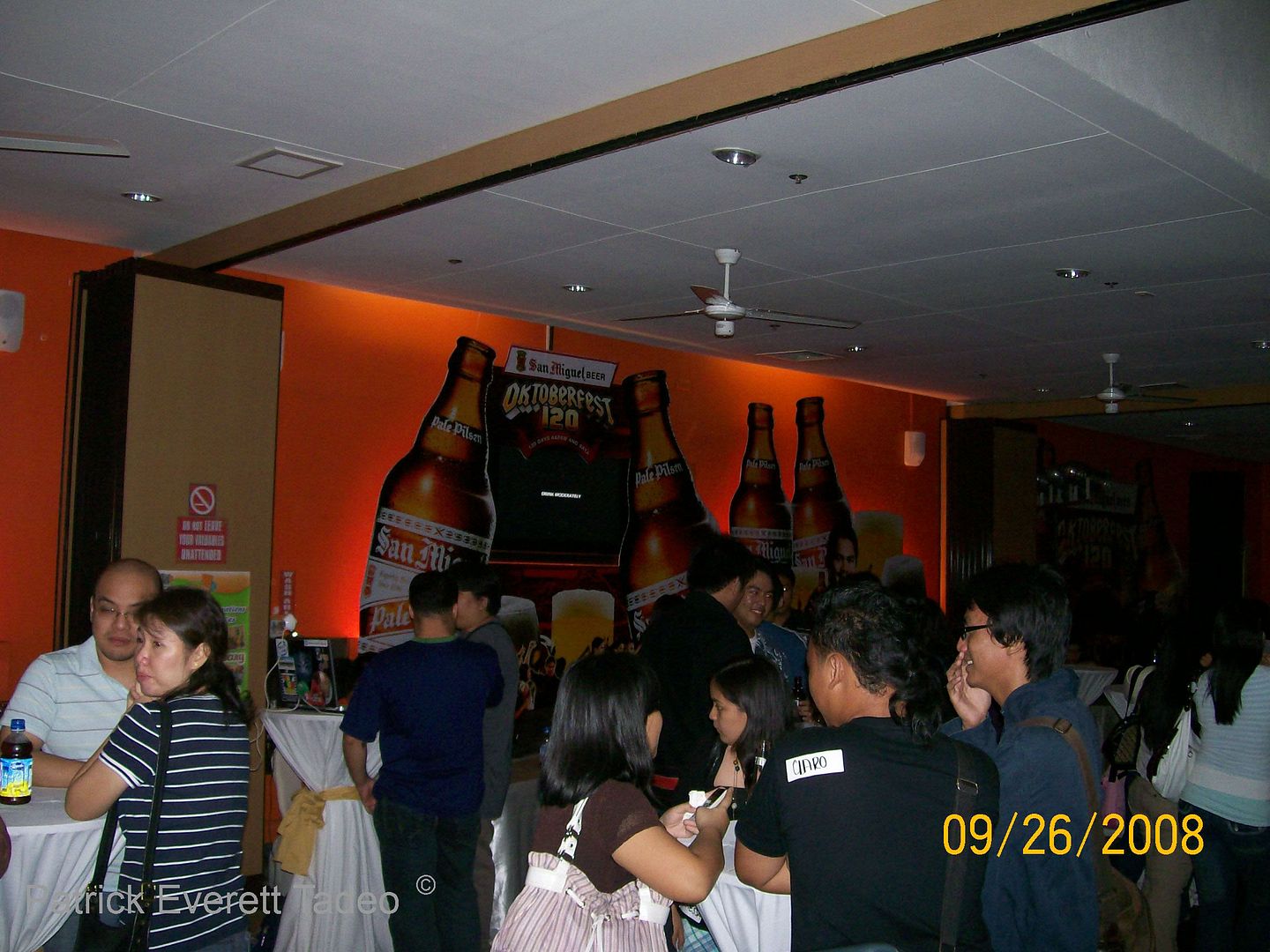 More and more companies now are paying attention to a blogger's power of promoting (or lambasting) their products and services; a clear example of the classic word-of-mouth marketing method crossing over into the virtual community to create the word-of-mouse marketing strategy. And while I understand a company's desire to promote what they're offering by giving their captive audience (in this case, the bloggers) the latest company-sourced PR spin to, well, promote what they have to offer; the very same bloggers, more often than not, feel indebted to write about the said product, with the resulting context looking haphazard and a little too forced.

But in last Friday's bloggers event, the San Miguel people didn't talk about their limited-edition beer nor did they talk about how their company has always been

yadda yadda yadda

... Instead, they just said,

"Welcome to San Miguel Beer's Oktoberfest Bloggers' Party,"

and that was it. There was no fanfare involved, no preaching of the company's mission and vision and whatnot. It was just a simple phrase that, in not so many words, welcomed everyone to the party, to partake of the free food and drinks, and to just have a good time.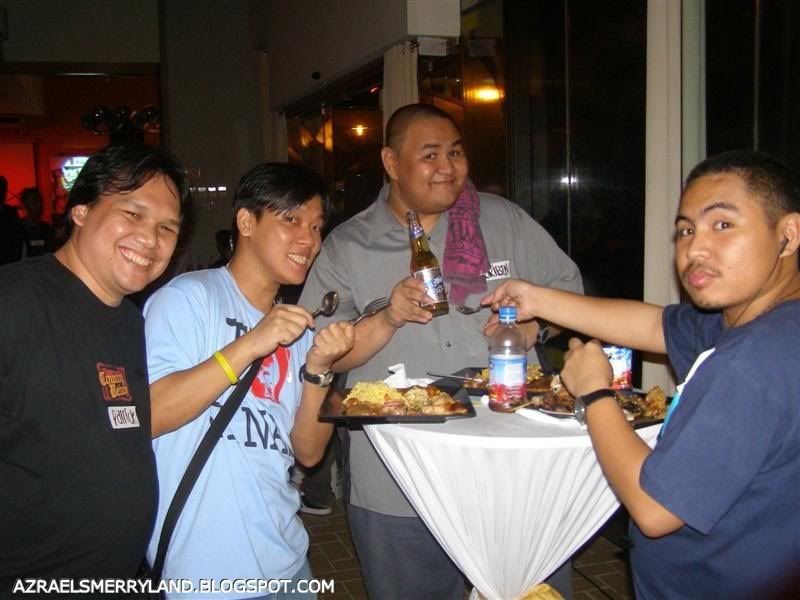 And that I did, actually. I was able to finally associate faces with names I've known online for some time. I got to drink a few bottles of a limited-edition beer that's not available to the general public (I think), and I was able to hang out with friends I haven't seen for a long time as well as with newfound ones.

So if there's really going to be an SMB Oktoberfest Bloggers' Halloween Party, Ms. Aileen, you can count me in!

Many thanks to Az for sharing his photos. The rest of my photos (along with some I got from Az, Mark and Joriben) can be viewed here.

Wish I could've taken home one of the Lenovo laptops home, though... or at least the cellphone from the raffle...

*sigh*