...as they recently kicked off the media tour
to promote their Dec. 6 fight at the MGM Grand in Las Vegas
on New York Harbor's Liberty Island, right in front of Lady Liberty herself.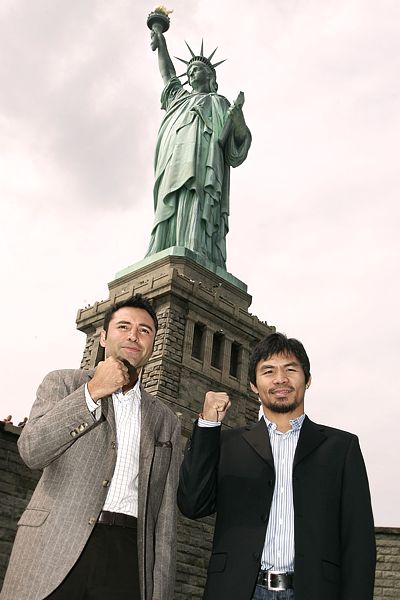 According to the reports, tickets for the fight were sold out in a matter of hours, making it the second largest gate in boxing history at almost $17 million, second only to the Oscar De La Hoya-Floyd Mayweather Jr. match which made close to $19 million. And as expected, a quick check on
eBay
has the tickets being re-sold by re-sellers (also known as scalpers) with the
cheapest ticket
going for close to $1,000 while the
ringside seats
can be had at almost $7,000. Also, hotel listings along The Strip on
Expedia.com
has the room rates jacked up at twice the regular price. And it's a given that the closer the fight night comes, the more exorbitant those price would go up some more.
But the buck doesn't stop there since there's still the pay-per-view revenue which runs at almost
$55
per buy. The De La Hoya-Mayweather match rang up $134.4 million in revenue from the 2.4 million buys, and helping pad that revenue was the 24/7 reality show that followed both fighters in the lead-up to their bout. And though HBO plans to film a similar four-episode series to boost the De La Hoya-Pacquiao match, Bob Arum's Top Rank Boxing and De La Hoya's Golden Boy Promotions aren't expecting to top, much less equal, the De La Hoya-Mayweather PPV take.



Providing drama for the match would be Manny Pacquiao's long-time trainer, Freddie Roach, since he also trained The Golden Boy for his match against Pretty Boy Floyd. Roach has said that he learned a lot about The Golden Boy from their intense 2-month training session and that he saw De La Hoya display some weaknesses in the later rounds of that match that he and the Pac-Man can use to their advantage.

Admittedly enough, The Golden Boy has said having Roach on the Pac-Man's side is a concern but he does plan to have some new tricks courtesy of his new trainer, Nacho Beristain, his third trainer in his past three fights, who also trained Juan Manuel Marquez for both his matches against Pacquiao.


Regardless of who's in their respective corners, both fighters are in for the fight of their lives. The Golden Boy has the
sizable advantages in height (four inches), reach (six inches) and normal weight in the 147-pound welterweight-limit match. But at 35, he's now at the twilight of his career and stands to lose everything and gain nothing (nothing less than $20 million in PPV share alone).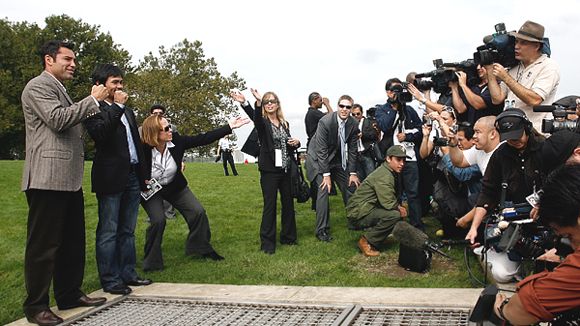 The Pac-Man, on the other hand, is still young and hungry, and he could just as easily bring his speed and punching power up with him as he packs on 12 more pounds to meet the limit, just like how he brought both with him when he beat David Diaz for the WBC lightweight crown last June. And winning the match against a fighter who's bigger in both size and stature than him would only enhance the Pac-Man's career.
And just like every match the Pac-Man has ever fought, the entire country will come to a standstill come Dec. 6. Metro Manila will report a 0% crime rate that day, traffic will flow more freely along the streets, and towns will look deserted as everyone stays glued to the TVs and the radios in their homes to follow the match closely.
So let's get it on!