If WWE's Vince McMahon had some smart business sense, this is what his XFL should've been like. Simple mathematics, really, if he did want to make an alternative to the NFL.

Vince's formula was wrong in the first place. It shouldn't have been:


because the correct formula is:


WWE

Divas

+ NFL = LFL
(Lingerie Football League)
For the clueless, Lingerie Football is played much like American football, but with pretty and sexy

(pretty sexy?)

lingerie models as players wearing, well, lingerie along with some protective football gear like open-faced helmets with clear visors, shoulder pads and other stuff. Okay, so it's not your typical, off-the-shelf lingerie but more like sports bras and really short shorts designed to look like lingerie to withstand the

"rigors"

of the game, but you get the picture. If not, then here are some

actual

pictures to help you figure it out.


Inspired by the success of the Lingerie Bowl, the pay-per-view event which has become a part of Super Bowl Sunday festivities and is broadcast at the same time as the Super Bowl halftime show since it first started in Super Bowl XXXVIII, the Lingerie Football League will kick-off its inaugural season in Fall 2009 with ten franchises carrying names like Los Angeles Temptation, Phoenix Scorch, Seattle Mist, San Diego Seduction, Dallas Desire, New England Euphoria, Chicago Bliss, Atlanta Steam, Miami Caliente and Tampa Breeze.
But if this became a co-ed sport, then I sure as hell would like to be a quarterback just so I can get to be under center with an up close view like this every single snap.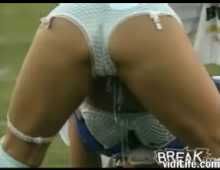 Anyway you look at it, this gives the term
"fantasy football"
a whole new meaning...